Dose tracker shows radiation exposure on 3D view of patient
By
March 28, 2014 - With the unmatched flexibility to measure radiation peak skin dose in real time, Toshiba America Medical Systems, Inc.'s Dose Tracking System is the latest advancement in optimizing dose management for its Infinix-i cardiovascular X-ray systems during adult and pediatric interventional procedures.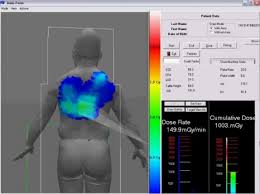 Toshiba's Dose Tracking System displays live and cumulative radiation exposure through an intuitive, color-coded indicator on a 3-dimensional (3D) visual representation of the patient. The display shows where the radiation is being administered on the patient's body in real time. This allows the clinician throughout a procedure to make quick and necessary changes to distribute the skin dose and minimize the potential risk of locally concentrated high exposure.
"We partnered with Toshiba to develop the Dose Tracking System to further improve the safety and well-being of patients during interventional procedures," said Dr. Neil Dashkoff, clinical professor of medicine, University at Buffalo; director, Cardiac Catheterization Laboratory, Erie County Medical Center. "This user-friendly Dose Tracking System assists the operator to 'spread the skin dose,' minimizing the risk of deterministic skin injury to any given area. This is particularly important during long interventional procedures and in circumstances where the patient may return to the cath lab within a few months of the incident procedure."
The Dose Tracking System in partnership with the University at Buffalo to provide hospitals with an easy-to-understand visual aid that shows how to suppress radiation exposure. "Combining the Dose Tracking System with other dose management tools, like Spot Fluoroscopy, Toshiba offers physicians better ways to optimize dose management when performing cardiac interventions," said David Sloop, director, X-ray Vascular Business Unit, Toshiba.
Toshiba is showing the Dose Tracking System for the Infinix-i at this year's American College of Cardiology (ACC) annual meeting in Washington, D.C., (Booth #2323).
Back To Top
---