FDA clears 6MP diagnostic displays with grayscale, color
By
March 21, 2014 - High resolution diagnostic displays supporting grayscale and color images can provides radiologists with the flexibility they need to interpret 2-dimensional grayscale and 3-dimensional volumetric image data.
Today, NDS Surgical Imaging (NDSsi) announced it has received FDA 510(k) clearance for its new Dome® S6c diagnostic display, a 6-megapixel (MP) LED widescreen model, and the latest addition to the S-series product family. The Dome S6c features 30-inch widescreen viewing, can be utilized as a single 6MP or in dual 3MP bezel-free format, and provides both grayscale and color images. A native resolution of 3280 x 2048 makes it ideal for viewing a wide range of medical imaging modalities including CR, DR, MR, CT, PET-CT, Ultrasound, and 3D Volume Rendering. Offering 800cd/m² high-bright LED-backlight technology and 1000:1 contrast ratio, the Dome S6c delivers a new benchmark in optical clarity and image brilliance in varying ambient light environments.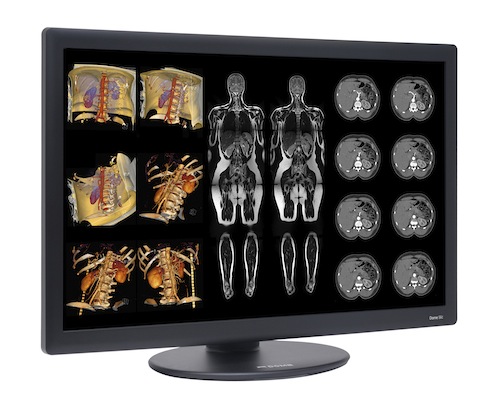 Lightweight and easily maneuverable at only 29 lbs, the Dome S6c provides low-power LED performance, and offers 170° viewing angle. Internal characterization data keeps the display in perfect DICOM compliance for the life of the product, with no further field calibration necessary. Dome's RightCheck hidden front sensor performs daily DICOM conformance testing automatically, and on demand by the user from remote locations via the globally accessible DomeAccess™ secure web portal.
"The industry has been waiting for a 6MP display that checks all the right boxes, while delivering an optimal solution to our customers," said Bill Carrano, President and General Manager of NDSsi. "Hallmarks of Dome's intelligent engineering such as factory calibration, fanless cooling, non-reflective screens and ultra-slim design set the new Dome S6c apart as the most advanced, forward-thinking 6MP display available today."

Back To Top
---