Fujifilm to highlight broad range of mammography, ultrasound solutions at NCoBC
By
March 14, 2014 - FUJIFILM Medical Systems U.S.A., Inc. will showcase its comprehensive women's health care solutions on March 15 -19 at the National Consortium of Breast Center Meeting in Las Vegas, NV. The NCoBC brings together medical and industry professionals from around the globe to network, learn and share ideas, methodologies and treatment options that improve quality of care and outcome for patients diagnosed with breast diseases.
"Attendees at this year's conference will see first-hand why radiologists have made Fujifilm a worldwide leader in breast imaging," said David Hotchkiss, director of marketing, Women's Health, FUJIFILM Medical Systems U.S.A., Inc. "The comprehensive, integrated portfolio offered by Fujifilm delivers image clarity and patient comfort. With Fujifilm, healthcare providers acquire exceptional images to make confident diagnostic interpretations."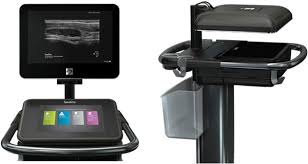 FUJIFILM SonoSite received the CE Mark for its X-Porte ultrasound system, a device the company bills as the "world's first ultrasound kiosk."

During the meeting, Fujifilm will highlight a broad range of its mammography and ultrasound solutions:
Fujifilm will introduce its latest and most innovative digital mammography system, the Amulet Innovality*. Among the many new features of the Amulet Innovality is the ability of this system to utilize advanced applications which includes the ability to do breast tomosynthesis studies***. The Amulet Innovality also has been designed to enhance patient comfort and the patient experience during annual exams. The Amulet Innovality will be known as the ASPIRE Cristalle** once available in the United States.
The Aspire Comfort Paddle, a patented paddle designed to improve patient comfort and reduce patientpain by allowing technologists to ensure even compression of the breast. The comfort paddle fits to the shape of the breast, while holding the breast securely and ensuring the tissue is separated. The new product is now available with the Aspire HD Plus and Amulet Innovality.
FUJIFILM SonoSite Inc. will showcase its high-resolution ultrasound kiosk, the X-Porte™. X-Porte was designed to cure side-lobe imaging artifacts, through a new type of technology never before used in an ultrasound system: SonoSite's proprietary Extreme Definition Imaging™ (XDI). XDI is a new beam forming algorithm that significantly reduces the visual clutter from side-lobes that affect all ultrasound products regardless of system size. The resulting ultrasound image appears cleaner with optimal tissue differentiation. The technological innovations are a result of the feedback and experiences of hundreds of clinicians that were observed during the development of the ultrasound kiosk.
* At an exchange rate of 83 yen to the dollar.
*The Amulet Innovality is not commercially available in the United States.
**The ASPIRE Cristalle will be made commercially available in the United States upon receipt of FDA clearance. Caution: Investigational Device .Limited by U.S. Federal Law to Investigational Use.
***Tomosynthesis functionality for ASPIRE Cristalle is not commercially available in the US.
For more information: www.fujifilmusa.com
Back To Top
---