April 29, 2014 - South Georgia Medical Center (SGMC) plans to conduct faster, safer, and more comfortable procedures using Toshiba's cardiovascular X-ray systems. To serve patients during more than 2,500 diagnostic cardiac catheterizations and interventional procedures annually, SGMC installed one Infinix VC-i and two Infinix VF-i systems.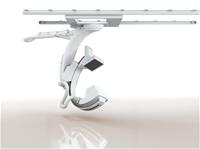 The Infinix VC-i is a vascular imaging system fitted with a ceiling-mounted arm to enable all-round patient access.

"We compared all the relevant cardiovascular X-ray systems on the market and selected Toshiba because of its reliable service and support team, which ensure we don't experience any downtime," said Janet Bennett, cath lab manager, SGMC. "The mechanical design of the Infinix-i provides unparalleled access and coverage for greater flexibility to move around the patient. The high-quality images enable us to perform safer and more accurate exams."
Toshiba's Infinix-i features flexibility in C-arm movement, allowing for head-to-toe and fingertip-to-fingertip coverage with 180-degree patient head-end access to perform exams with ease. When combined with Toshiba's proprietary Next Generation Advanced Image Processing (AIP), the Infinix-i improves visualization, helping clinicians diagnose, and treat patients with enhanced accuracy. Infinix-i systems also feature dose management optimization technologies, such as the Dose Tracking System, Spot Fluoro, AIP, Live Digital, Zoom Virtual Collimation and Grid Pulsed Fluoro, helping reduce dose to both patient and staff.