Imaging center leverages CAD for mammography, breast density to enhance care
By
May 8, 2014 - VuCOMP, Inc. announced that its M-Vu® CAD and M-Vu® Breast Density have been installed at Battlefield Imaging in Ringgold, GA. The M-Vu CAD System will be used with Siemens Mammomat Inspiration Mammography System. Battlefield Imaging is the first all-digital imaging center in the region, and its investment in VuCOMP technology aligns with its mission to offer patients the most advanced tools available.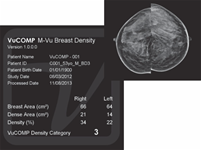 M-Vu CAD uses advanced computer vision algorithms to identify areas in mammograms consistent with breast cancer, and was the first mammography CAD product to meet FDA-recommended standards for proven effectiveness. Based upon FDA data, the false positive per image (FPPI) rate of M-Vu CAD was 40% less than that of ICAD's SecondLook system while their sensitivity yield was equivalent. This suggests that the new FDA standards may be resulting in better performing CAD systems, and further studies are necessary.
M-Vu Breast Density is an important companion software because the denseness of a breast can make breast cancer detection more difficult and may also be associated with a higher cancer risk. M-Vu Breast Density evaluates mammograms for dense tissue. By analyzing the structure and texture of the tissue, rather than simply estimating total fibroglandular volume, the system calculates a percentage of breast area that is dense and converts it to one of four density categories corresponding to the American College of Radiology's Breast Imaging-Reporting and Data System (BI-RADS) standard.
"The combination of VuCOMP's CAD and Breast Density systems helps ensure our position as a regional leader in care for women," said Dr. John Nelson, MD, Medical Director of Battlefield Imaging. "Our goal at Battlefield is to seek out the tools that help me give patients the best care possible—and that includes technology that detects breast cancer as early as possible while helping to prevent unnecessary callbacks, which can be the case with some CAD systems. In my experience, M-Vu stands alone in terms of reliability, clarity, and ease of use."
"Dr. Nelson and his team are focused on cutting-edge clinical care, and we're proud that they've chosen our technology to serve their patients," said VuCOMP company President Jim Pike. "We believe that the installation at Battlefield will maintain their position as a regional leader in breast cancer detection and care."
VuCOMP recently released its second version M-Vu Breast Density system, Version 2.0, an enhancement that was made immediately available to existing customers as well as to new customers. The new release adds a critical dimension to the analysis of dense breast tissue. The VuCOMP density category, analogous to the BI-RADS breast density composition category, is now correlated to not only the amount, but also the distribution – the actual dispersion – of fibroglandular tissue.
About VuCOMP, Inc.
Back To Top
---