SIR highlights interventional radiologist's contributions to the field
By
March 26, 2014 - The 30th annual Dotter lecture titled "Thirty Miles East of Samar," focused on an exploration the Society of Interventional Radiology's choices in training, innovation, collaborative work with other medical specialties and political issues affecting medicine.
Past President James F. Benenati, MD, FSIR, a practicing interventional radiologist, clinical researcher and medical director at Baptist Cardiac & Vascular Institute's (BCVI) Peripheral Vascular Laboratory in Miami since 1990, focused on interventional radiologist's extraordinary contributions to the field, dedicated service to SIR and distinguished career achievements in his opening plenary delivered at SIR's 39th Annual Scientific Meeting, March 22–27, 2014, in San Diego.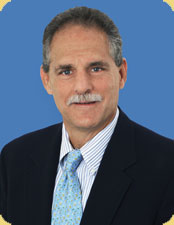 Past SIR President James F. Benenati, MD, FSIR
"The Society of Interventional Radiology recognizes Dr. Benenati's exemplary achievements over the years and his unwavering dedication to interventional radiology and the society. Much loved by his patients and respected by colleagues, he continues to drive medical research to improve patient care and expertly train the next generation of interventional radiology doctors," said Goodwin, who represents the society of nearly 5,000 doctors, scientists and allied health professionals dedicated to improving health care through image-guided, minimally invasive treatments. "This talented, brilliant interventionalist leads by excellence and example—developing and growing a vibrant practice over the years—stressing collaboration among medical professionals to ensure high-quality care for patients, the hospital and the community," added Goodwin, an interventional radiologist and the Hasso Brothers' Professor and chair of radiological services at the University of California Irvine (UCI) School of Medicine.
Benenati—who also serves as clinical professor of radiology at Florida International University's Herbert Wertheim College of Medicine, Miami, and a clinical associate professor of radiology at the University of South Florida Morsani College of Medicine, Tampa—has participated in research focused on abdominal aortic aneurysm repair with endografts, stents in peripheral vascular disease, prevention of restenosis in the femoral and popliteal arteries, carotid stenting, hypertension management and fibroid embolization.
"I am deeply honored and humbled to be included among past Dotter lecturers—interventional radiology pioneers who solved difficult medical problems with creativity, innovation and research," said Dr. Benenati, who is credited with developing one of the country's most coveted and sought-after fellowships and best-known for his work to establish a nationally renowned accredited peripheral vascular laboratory.
A member of the Society's Executive Council for more than a decade and a past chair of its Annual Scientific Meeting Committee, Benenati is an active board member of the Intersocietal Accreditation Commission (IAC) and he is past president of the Intersocietal Commission for the Accreditation of Vascular Laboratories (ICAVL), a national commission that sets standards for noninvasive vascular testing throughout the United States. He is a Fellow of SIR and the American Heart Association.
Benenati is also program director for ISET (International Symposium on Endovascular Therapy) and is active in educational activities for SIR. He is a Notre Dame alum and received his medical degree from the University of South Florida Morsani College of Medicine. He completed a residency in diagnostic
radiology at Indiana University Medical Center, Indianapolis, and a fellowship in cardiovascular and interventional radiology at Johns Hopkins University School of Medicine, Baltimore.
Back To Top
---