Ferumoxytol-enhanced MR venography feasible for children with chronic kidney disease
By Staff News Brief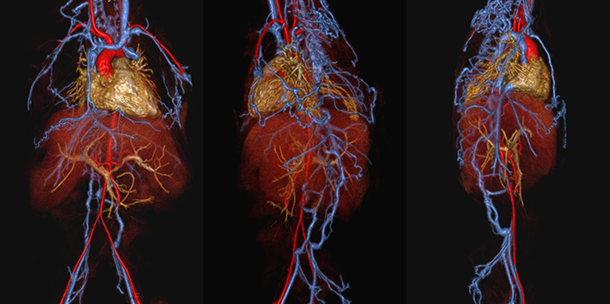 Figure 1. Ferumoxytol-enhanced MR venogram at 3.0T in a 5-year-old girl with chronic renal failure. Volume-rendered reconstructions from the anterior (left frame), left lateral (middle frame) and right lateral (right frame perspectives show occlusion of the entire inferior vena cava and common lilac veins with collateralization through lumbar, spinal and azygous veins. Systemic veins are rendered in blue, portal vein in yellow and systemic arteries in red.
Ferumoxytol, an ultra-small superparamagnetic iron oxide particle with a high T1 relaxivity, produces high-quality diagnostic images from MR venography exams of children with chronic kidney disease, and may be a viable replacement for gadolinium-based contrast agents, suggests a small study conducted at the David Geffen School of Medicine at the University of California in Los Angeles (UCLA).
Starting at a young age, children with chronic kidney disease require multiple vascular mapping studies. Detailed vascular mapping is performed for venous access planning, vascular patency assessment, and transplantation workup. Contrast-enhanced MR arteriography and venography exams produce excellent diagnostic images in these patients, but concerns about nephrogenic systemic fibrosis (NSF) have significantly diminished its use.
Ferumoxytol presents an immediate solution to the issue of NSF and of complex flow patterns, according to the authors of an article published in the August issue of Pediatric Radiology. Ferumoxytol exerts a strong T1 shortening effect that greatly enhances the signal from blood on appropriately weighted pulse sequences. The authors discuss the quality of ferumoxytol-enhanced MR venography-acquired images and describe 22 consecutive exams performed on 20 children who were renal transplant patients or experienced renal failure.
The images were acquired on a 3.0T scanner. Following intravenous administration of 4 mg/kg of ferumoxytol, high-resolution images encompassing the neck, thorax, abdomen and pelvis were acquired over at least three time points. The longest interval between the arterial phase imaging and the last measurement of delayed steady-state imaging was 50 minutes. In all cases, the appearance of the vessels did not change during this time period. None of the patients experienced any adverse effects from the contrast agent.
Two pediatric radiologists independently evaluated six named vessels, scoring them on a 3-point scale (poor/adequate/excellent). Images from all exams were scored as diagnostic to excellent, with mean scores ranging from 2.7 to 2.9. Twelve exams were subsequently compared with findings from other follow-up iexams that included interventional angiography, CT and ultrasound. The authors stated that the MR venography images clearly defined vascular abnormalities, many of which they did not think would have been possible to detect with ultrasound or noncontrast techniques.
The authors acknowledged the boxed warning issued by the U.S. Food and Drug Administration (FDA) highlighting the possibility of severe and potentially fatal anaphylactoid reactions when ferumoxytol is injected rapidly in therapeutic doses to adults with renal failure. They do not believe that its use with a pediatric MR venography exam poses the same risk. They infused ferumoxytol slowly as recommended in the FDA advisory and closely monitor physiological response.
"The speed and simplicity of the acquisition and of the underlying pulse sequences make ferumoxytol-enhanced venography a practical technique, with little vulnerability to issues of poor contrast bolus timing and renal elimination," the authors stated. They believe its use with high-resolution MR venography is a powerful and reliable diagnostic test in children with chronic kidney disease and recommend that larger clinical studies be conducted to establish ferumoxytol's safety profile for diagnostic use over a wide range of applications and patient groups.
REFERENCE
Luhar A, Khan S, Finn JP, et al. Contrast-enhanced magnetic resonance venography in pediatric patients with chronic kidney disease: initial experience with ferumoxytol. Pediatric Radiol. 2016:46;9:1332-1340. doi: 10.1007/s00247-016-3605-z. PMID:27059620
Back To Top
---
Ferumoxytol-enhanced MR venography feasible for children with chronic kidney disease. Appl Radiol.
By
Staff News Brief
|
September 28, 2016
About the Author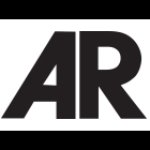 Staff News Brief