Predicting tumor-positive post-lumpectomy margin risk with breast MRI
By Staff News Brief
Breast magnetic resonance imaging (MRI) may help identify women at risk of having tumor-positive margins following breast conservation surgery for invasive cancer, according to research from Duke University Medical Center published online May 15, 2019, in Clinical Imaging. In a study of more than 500 patients, radiologists identified several features on breast dynamic contrast-enhanced (DCE) MRI that could benefit surgeons in clinical preoperative decision making.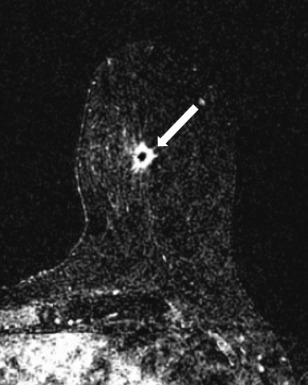 62-year-old female with biopsy-proven grade 2 invasive
ductal carcinoma in the left breast at 6 o'clock at middle
depth. The subtracted axial MR image demonstrates
an irregular enhancing mass (arrow). The margins of the
surgical specimen were negative for invasive carcinoma.
The study included women with lumpectomies performed at Duke to remove either invasive cancer or ductal carcinoma in situ (DCIS) between 2005 and 2014 and who did not undergo pre-surgical chemotherapy. The cohort included 554 patients, 21 with bilateral cancers. More than 80% of the surgeries were performed for patients with invasive cancers, with only 18% for DCIS.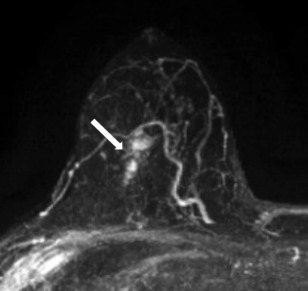 54-year-old female with biopsy-proven grade 2 invasive
ductal carcinoma in the right breast at 12 o'clock at middle
depth. Axial maximum intensity projection (MIP) image
from the pre-operative MRI demonstrates non-mass
enhancement (arrow). The margins of the surgical
specimen were positive for invasive carcinoma.
Lead author Manisha Bahl, MD, currently affiliated with Massachusetts General Hospital, and colleagues reported that 20% of the patients with invasive cancers also had tumor-positive surgical margins. Seventy-two patients underwent re-excision and 20 patients subsequently had mastectomies. The percentage of tumor-positive margins for DCIS was higher, at 31%. Thirty-two surgeries were performed: 22 re-excisions and 10 mastectomies.
After reviewing MRI reports, the radiologists determined that positive surgical margins were associated with non-mass enhancement and larger tumor size on MRI, in addition to lobular histological subtype at core needle biopsy for patients with invasive cancer. No statistically significant findings were identified on breast DCE MRI for patients with DCIS.
The authors found that non-mass enhancement, rather than enhancing mass, was more commonly associated with positive margins, at 34% compared to 17%, respectively. Women with positive margins also tended to have significantly larger tumors, at a median 2.5 cm, compared to a median of 1.9 cm for women with negative margins. Patients with invasive lobular cancer had more than double the percentage of positive margins (at 38%) than patients with invasive ductal cancer (at 16%).
For DCIS patients, positive margins were more likely when the MRI demonstrated moderate or marked background parenchymal enhancement (BPE) compared to minimal or mild BPE, but this was not significantly different for the 102 cases in this study. The authors also evaluated breast density on mammography, tumor grade on core biopsy pathology, surgeon, and patient age. None of these variables was statistically different among patients with and without positive margins.
These findings may not be applicable at hospitals where preoperative breast MRI is routinely performed on all patients, the researchers said. At Duke, patients undergo a DCE MRI only if requested by the patient's oncologist, breast surgeon, or radiation oncologist. The authors wrote, "Given this selection bias, it is likely that the positive margin rate in this selective group of patients is higher than the rate for all patients who undergo breast-conserving surgery."
Nonetheless, Dr. Bahl and colleagues contend that breast DCE MRI can be useful in predicting which patients are at risk for tumor-positive surgical margins. "MRI is often used in the pre-operative setting to evaluate extent of disease in the breast with known cancer and also to screen the other breasts," said Dr. Bahl. "Our results suggest an additional use of MRI: to predict which patients are at risk for tumor-positive margins. This information will be helpful to breast surgeons and the counsel they provide to their patients."
REFERENCE
Bahl M, Baker JA, Kinsey EN, et al. MRI predictors of tumor-positive margins after breast-conserving surgery. Clin Imaging. Published online May 15, 2019. doi: 10.1016/j.clinimag.2019.05.006.
Back To Top
---
Predicting tumor-positive post-lumpectomy margin risk with breast MRI. Appl Radiol.
By
Staff News Brief
|
June 25, 2019
About the Author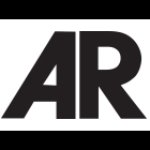 Staff News Brief