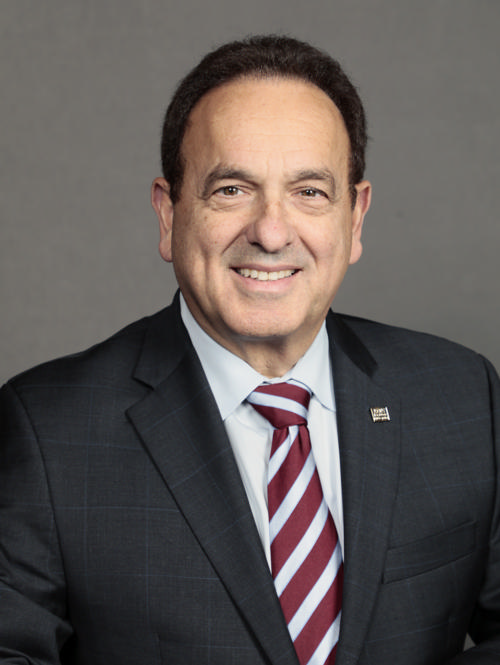 Bruce G. Haffty, MD, associate vice chancellor, Cancer Programs, at Rutgers Biomedical and Health Sciences, was named President of the RSNA Board during the association's annual meeting. Dr. Haffty, who also serves as professor and chairman in the Department of Radiation Oncology at Rutgers Robert Wood Johnson Medical School, Rutgers Cancer Institute of New Jersey and Rutgers New Jersey Medical School.
Other appointments to the RSNA Board of Directors include both Jinel A. Scott, MD, MBA, and Richard E. Heller III, MD, MBA, as at-large directors and Matthew A. Mauro, MD, reappointed as chair.
As president, Dr. Haffty will focus on expanding RSNA's profile in the broader medical community, collaborating with other major medical societies and governmental agencies in promoting the value of the radiological sciences to patients and partners in health care delivery.
"I am humbled and honored to serve as RSNA president for the coming year," Dr. Haffty said. "As a radiation oncologist, I appreciate the value of imaging to my daily practice and routinely witness the importance patients and their multidisciplinary care team place on imaging in their journey through the diagnosis, treatment and follow-up of their cancer care. This next year will revolve around the value and empowerment of imaging to our patients and collaborating physicians, and I look forward to a productive and exciting year."
Dr. Haffty is a leader in national clinical trials and is currently co-investigator on several national clinical trials through the NRG Oncology and Alliance for Clinical Trials in Oncology cooperative groups. He has given many scientific research presentations nationally and internationally, and has been an invited lecturer or visiting professor at nearly 180 institutions and meetings worldwide.
At Rutgers' Robert Wood Johnson Medical School, New Jersey Medical School and Cancer Institute of New Jersey, Dr. Haffty spearheaded the expansion of the radiation oncology program and developed residency programs in radiation oncology and medical physics—the only such programs in the state of New Jersey.
Through his extensive work with the American Society for Radiation Oncology, Dr. Haffty served as the founding president of the Association of Directors of Radiation Oncology Programs (ADROP) in 2000, providing tools and resources to advance the quality of residency training and education in radiation oncology. He served as ADROP president from 2000 to 2003.
Dr. Haffty's research on new methods of delivering radiation therapy for breast cancer has focused on molecular and genetic factors as they relate to radiation resistance and outcomes in patients. His Lancet-published research on BRCA1 and BRCA2 gene mutations in conservatively managed breast cancer documented high rates of second primary ipsilateral breast cancers (cancers affecting the same treated breast) and has impacted clinical practice. Dr. Haffty's research has created unique factors associated with outcomes, paving the way for molecular targeted therapies in combination with radiation.
Dr. Scott is an associate professor of clinical radiology in the Department of Radiology at State University of New York (SUNY) Downstate Health Sciences University, and director of emergency radiology, quality improvement and patient safety in the Department of Radiology at New York Health and Hospitals/Kings County, both in New York City.
"This is a really exciting and dynamic time for radiology, as the field seeks to extend its impact beyond the reading room to meet the challenges of delivering care in a safe and equitable manner," Dr. Scott said. "RSNA has always been at the forefront of radiology technology and education, and it is an honor to serve RSNA and the radiology community in this capacity and at this time. The future is bright for our profession, and I am pleased to be a part of it in my new role with the Society."
Highly regarded for her dedication to improving medical care for underserved patients, Dr. Scott is committed to providing high quality and safe care for all patients and focuses much of her time to making change happen in the health equity space.
Dr. Heller is associate chief medical officer for Communications & Health Policy and national director of pediatric radiology at Radiology Partners, a national radiology practice based in the U.S. He also serves as clinical associate at University of Chicago Medicine, Comer Children's Hospital in Chicago, Illinois.
"I am both honored and humbled to join the board of RSNA, an organization so important to me that my wedding in Chicago was timed to coincide with its annual meeting," Dr. Heller said. "RSNA is the center of the radiological sciences global community. The annual meeting is a place to learn and share, as well as re-connect with old friends and meet new ones. And year-round, RSNA is a place where I learn from and engage with others who share a passion for the mission to improve patient care through education, research and technology. I look forward to helping build on the RSNA's legacy of excellence."
Both in his role at Radiology Partners and for the field of radiology overall, Dr. Heller is a strong advocate for responsible health policies that protect patients and the physician practices that serve them. He has been recognized for his dedication to radiology policy and practice improvements, including with the Practice Values Award for Teamwork at Radiology Partners Practice Leadership Summit in 2019.
Dr. Mauro is president of University of North Carolina (UNC) Faculty Physicians and senior physician executive of UNC Health Care System Revenue Cycle. Dr. Mauro is the James H. Scatliff Distinguished Professor of Radiology, as well as a professor of surgery and interim chair of the Department of Surgery, at the UNC at Chapel Hill School of Medicine. He has been a faculty member at UNC since 1982.
As RSNA chair, Dr. Mauro will continue to lead the board in advancing patient care through educational programs, supporting scientific discovery through the Research & Education (R&E) Foundation, and providing the premier forum for scientific dissemination.
"It is my honor to be serving as chair of the RSNA Board of Directors for a second term," Dr. Mauro said. "For the coming year, my goals are to continue to implement our governance changes, increase our diversity, and support RSNA's mission by fostering advances in the radiological sciences."
Back To Top