Wet Read: Chocolate
By

Your hand and your mouth agreed many years ago that, as far as chocolate is concerned, there is no need to involve your brain.
—
Dave Barry
We have a new reading room. We like it. It is comfortable, quiet, and has these cool desks that are electric. You can make every inch ofthe desk jump like a frog in an electric pond by hitting the right button. There are still a few items we would like to have, but will likely always do without. A coffee machine (can't have that much proximity to a substance we would abuse), a refrigerator (something about electrical code requirements), a TV set (see coffee machine), etc. But, we have a box of candy.
I feel better about humans when I learn they love chocolate. It is just good stuff. Likely developed to be the other food group. A restaurant without a good chocolate dessert is suspect to me; chocolate shops are difficult to walk by. I should have stock in Hershey's, Ghirardelli, and a few others. We all have that one chocolate item that makes our breath come a little quicker and our spoon hand quiver. I have a particular fondness for those chocolate molten cakes — decadent chocolate cake with (oh my god, say it isn't so), a hot and drippy chocolate filling.
And, whoever came up with the idea of chocolate vodka tapped into a center in my medulla, which had previously been unexplored.
So, the reading room connection? That box of candy is 90% chocolate. We tempt ourselves with them. We eye that box, and we adopt a defensive posture whenever anyone outside our ranks moves toward it. I've noticed that a few of the clinicians who venture in here for a consult have discovered the box. Some try to surreptitiously hoist a few chocolates out of it and slide them into their pocket. Others are more open and just dive in and extract several and start eating them. One even asks for permission to have one (we routinely deny the first request,and then accede). In my mind, we are cementing "good clinical staff relationships," and we are definitely helping out the dental staff. Many days, we wait until they are gone and fight to get there and pull out our favorite before someone else can get it. Chocolate in the afternoon is almost a given these days. Regardless of whatever else happens with reimbursements, I hope we at least make enough to keep ourselves in chocolates.
Keep doing that good work. Mahalo.
Back To Top
---
Wet Read: Chocolate. Appl Radiol.
About the Author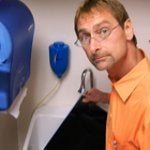 Dr. Phillips is a Professor of Radiology, Director of Head and Neck Imaging, at Weill Cornell Medical College, NewYork-Presbyterian Hospital, New York, NY. He is a member of the Applied Radiology Editorial Advisory Board.