CT colonography: A screening exam for abdominal aortic aneurysms
By
CT colonography (CTC) is increasingly being used in many countries as the preferred screening examination for colon cancer. CTC images, however, also offer the potential to detect extra-colonic incidental findings, making CTC a "double-duty" screening exam for small abdominal aortic aneurysms (AAA). A recent study from New Zealand published in the Journal of Medical Imaging and Radiation Oncology sought to determine CTC's impact in this area.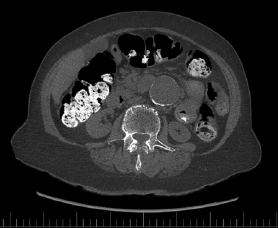 CTC image showing abdominal aortic aneurysm.
Courtesy of Manar Khashram, MD, Christchurch
Hospital Department of Radiology.
New Zealand has one of the highest rates of colorectal cancer in the world. Because CTC screening tends to be used in New Zealand for patients at higher risk and for a larger percentage of elderly patients, researchers at the Christchurch Hospital in Christchurch, Canterbury, conducted a 5.5 year study to determine the impact of CTC on identifying patients with AAA and to determine how this population differed from patients identified diagnosed with AAA by other means. Principal investigator Manar Khashram, MD, of the Department of Vascular, Endovascular and Transplant Surgery, and co-authors sought to prove or disprove their hypothesis that AAA patients diagnosed by CTC might be higher-risk patients with a lower life expectancy who might not benefit from aneurysm detection and surveillance.
The study included all consecutive patients who were treated at a small aneurysm clinic at Christchurch Hospital between 2010 and May 2016. These included a total of 566 patients, almost three-fourths of whom were men, ranging in age from 48 to 93 years. The majority of aneurysms were detected by CT (49.1%) — 17% by CTC — or ultrasound (44%). The 96 patients who were diagnosed by CTC had the exam due to change in bowel habit, GI bleeding or anaemia, abdominal pain, and/or weight loss. Only three patients had the exam because their conventional colonoscopies could not be completed. A total of 7.2% of patient cohort, or 41 patients, underwent AAA repairs.
There were no significant differences between the 96 patients diagnosed by CTC and the 470 patients diagnosed by other imaging procedures. In addition to general demographics and smoking history, this included incidence of cardiovascular disease, diabetes, renal impairment, and statin use.
"This observational study highlights the potential importance of utilizing all possible radiological modalities, even those that do not always utilize intravenous contrast, such as CTC to aid in the incidental detection of AAA in the community," wrote the authors. "A process of assessing the aorta during a CTC examination will indirectly provide some aneurysm detection at no additional harm, radiation dose exposure, or cost." Dr. Khashram commented to Applied Radiology that such an assessment can act as an adjunct to existing aneurysm screening programs and potentially save costs to patients, providers and payers.
The authors said that processes should be developed where the abdominal aorta is routinely measured to avoid misdiagnosis and preventing fatal complications of aortic rupture in countries where a formal AAA screening program is not available. When an AAA is identified, processes also need to be in place to guarantee appropriate referral and treatment.
REFERENCE
Khashram M, Tiong LC, Jones GT, et al. The impact of CT colongraphy on abdominal aortic aneurysm referrals in a tertiary hospital. J Med Imaging Radiat Oncol. Published online September 21, 2016 (DOI: 10.1111/1754-9485.12535).
Back To Top
---
CT colonography: A screening exam for abdominal aortic aneurysms. Appl Radiol.
By
Staff News Brief
|
January 17, 2017
About the Author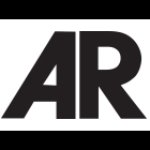 Staff News Brief