CT helps predict complications after surgery for diverticular disease
By News Release
The quantitative assessment of visceral fat shown on CT images may provide a valuable radiological tool to help gastroenterologists and surgeons determine which patients with diverticulitis may develop complications after sigmoidectomy. Visceral fat measurement may potentially be used to assist in surgical decision making, according to a recently published study in the American Journal of Surgery. 1
Diverticular disease is one of the most common colonic disorders in Western societies. It affects over 60% of individuals aged 50 and older. Over the last decade however, the incidence of diverticulitis has been steadily increasing as also has the number of younger aged patients with the disease. While approximately only one out of every five patients experience symptoms of abdominal pain, bleeding, pyrexia and/or altered bowel habits, up to 20% of these individuals require surgery.
A correlation between the development of diverticulitis and its complications and obesity has been observed. Intra-abdominal or visceral fat is a proinflammatory cytokine-producing organ. In 2011, researchers from the Hangyang University College of Medicine in Seoul, Korea, showed that visceral fat measured using ultrasound imaging was an independent risk factor both for the development of diverticular disease and diverticultis-associated complications.2
A multi-institutional team of researchers from the Wake Forest School of Medicine in Winston-Salem, NC and the Pennsylvania State University College of Medicine in Hershey conducted a study using CT images to evaluate the relationship between visceral fat and post-operative complications after sigmoid resection for diverticulitis. Patients who had sigmoid resection for diverticulitis over a 10 year period starting January 2002 and had had an abdominal CT scan less than one month before surgery comprised the 211 patient cohort.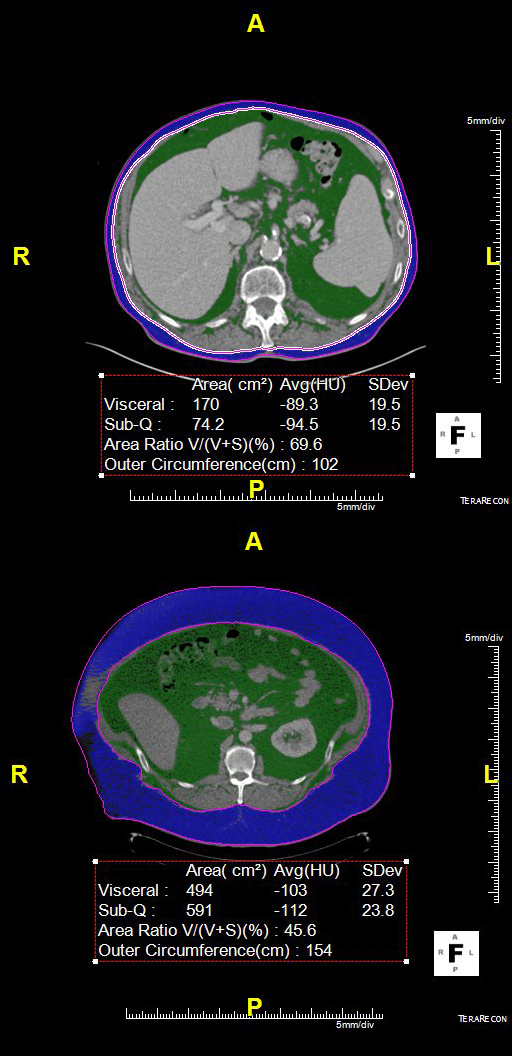 Imaging reconstruction software (TeraRecon iNtuition™, TeraRecon, Foster City, CA) was used to measure fat parameters. The software identifies and highlights subcutaneous fat in blue and visceral fat in green. Four measurements were taken at the level of each midvertebral body from L1 to l5 in an axial plane. These included:
the total cross-sectional area of visceral/intra-abdominal adiposity (VF)
the total cross-sectional area of subcutaneous adiposity or subcuntaneous fat (SF)
abdominal circumference (AC)
visceral subcutaneous ratio (VSR) as calculated by the software.
The averages of the results taken at the five vertebral levels for these four measurements were calculated to provide a single value at each parameter (SF, VF, AC and VSR) for each patient.
Visceral fat proved to be the only fat parameter that was statistically different between patients who had complications after surgery and those who did not. Patients who had complications had a mean visceral fat content of 209.81 compared to 162.08 for patients who were complication-free. Lead author Rafel Tappouni, M.D., associate professor of radiology at Wake Forest Baptist Health, and colleagues reported that body mass index was comparable for both groups.
For the assessment of all fat parameters, the authors pointed out that the abdominal CT images used for analysis must include the skin and superficial fat at multiple levels. They said that the analysis to obtain the VF, SF and VSR can be performed using imaging reconstruction software in less than five minutes.
"Visceral fat measurement is objective and easy to perform. Its measurement may affect surgical decision making in the near future. Notably, BMI, which is not always correlative with the amount of fisceral fat in the individual patient, did not correlate with c omplications in this study. A low threshold of suspicion for postoperative complications of diverticulitis patients with a large amount of visceral fat should be held," wrote co-author Evangelos Messaris, M.D., Ph.D. of the Pennsylvania State University Department of Radiology to Applied Radiology.
REFERENCES
Tappouni R, Mathew P, Connelly TM et al. Measurement of visceral fat on preoperative CT predicts complications after sigmoid colectomy for diverticular disease. Am J Surg. Published online March 7, 2015.
Jeong JH, Lee HL, Kim JO et al. Correlation between complicated diverticulitis and visceral fat. J. Korean Med. Sci. 2011;26(10) 1339-1343.
Back To Top
---
CT helps predict complications after surgery for diverticular disease. Appl Radiol.
By
News Release
|
April 17, 2015
About the Author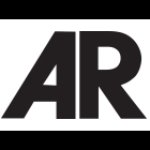 News Release