Radiologists need to be aware of the signs and symptoms of contaminated synthetic marijuana, as the coagulopathy it causes can potentially lead to brain damage and death. A group of radiologists at Johns Hopkins University School of Medicine in Baltimore described their experiences with patients sickened by brodifacoum-contaminated synthetic marijuana in the July 18, 2018 online edition of Emergency Radiology.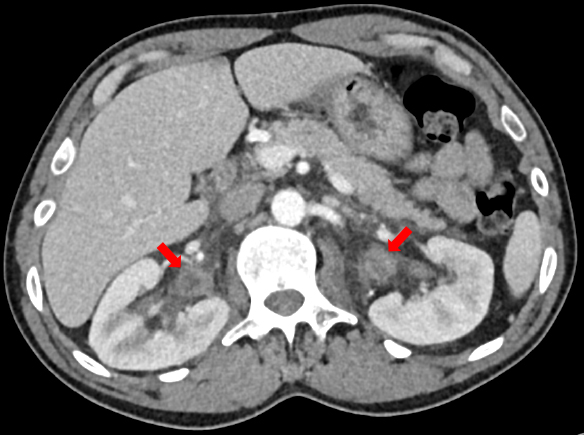 Arrows indicate the hemorrhagic pyelitis/ureteritis on contrast-enhanced CT
Brodifacoum is a very long-acting anticoagulant commonly used in rat poison. In a statement dated July 19, 2018, the U.S. Food and Drug Administration (FDA) advised that it had received reports of severe illnesses and deaths from synthetic marijuana contaminated with brodifacoum, which is being sold in convenience stores and gas stations under the names of "K2" and "Spice".1 Hundreds of individuals have been hospitalized this year in at least 10 states, according to the FDA statement. The agency also alerted health care providers, particularly those providing emergency care, to "consider the possibility of synthetic cannabinoid exposure when individuals present with unexplained bleeding."
Senior author Steven P. Rowe, MD, PhD, assistant professor of radiology and radiological sciences, told Applied Radiology that the outbreak in Baltimore may have been related to a specific batch of contaminated synthetic marijuana. To his knowledge, no additional cases have been treated at Johns Hopkins, although many patients may not be definitively diagnosed. Dr. Rowe, along with Babita Panigrhai, MD, and Blake C. Jones, MD, the senior radiology residents who suspected the diagnosis, said it was important to alert radiologists to the clinical and unique radiologic findings in the two cases they were involved in where patients were diagnosed with severe coagulopathy.
One patient was a 51-year-old man with a history of substance abuse and chronic back pain. A contrast-enhanced computed tomography (CT) scan revealed marked bilateral renal pelvis and ureteral wall thickening and enhancement with surrounding inflammation. Laboratory tests did not reveal any abnormalities, other than the presence of known opiates to treat chronic back pain, and a large amount of blood in the urine. A cannabinoid screen was negative. The patient was released from the emergency department but returned two days later with symptoms of worsening leg pain and swelling, bruising, and hematuria. Laboratory tests were abnormal, and the patient was admitted to the hospital.
The second case was the man's 39-year-old fianceé, who had symptoms of hematuria, epistaxis, hemoptysis with cough, spontaneous bruising on her stomach and extremities, and abdominal pain radiating to the back. A CT of the abdomen and pelvis revealed hemorrhagic pyelitis/ureteritis with areas of abdominal bruising. Laboratory tests were abnormal. While a cannabinoid screen was negative, a serum brofidacoum test was positive.
When questioned, both patients admitted that they had smoked K2 one to two weeks prior to developing symptoms. Dr. Rowe said, "I honestly think that they had not disclosed their use earlier because it hadn't occurred to them that their symptoms might be related to the batch of synthetic marijuana they had been exposed to. This was a difficult diagnosis to make for the emergency room physicians and for the on-call radiology residents who were working through the cases. Recent press releases from the Center for Disease Control helped put the pieces together."
"The clinical manifestations of abnormal bleeding with an elevated international normalized ratio (INR) as well as the radiological manifestations of hemorrhagic ureteritis/pyelitis without infectious or traumatic cause should suggest this diagnosis in the setting of a patient with substance abuse during this public health outbreak," wrote the authors.
In describing the abdominal CT findings of the female patient, the authors wrote, "A coronal contrast-enhanced CT image demonstrated bilateral hemorrhagic pyelitis and ureteritis with thickened, hyperenhancing urothelium, which was less severe than the male patient. A small amount of mesenteric standing and fluid is seen in the retroperitoneum, again tracking along the psoas musculature. The axial image shows foci of hyperattenuation within the subcutaneous fat of the anterior abdominal wall that may have correlated to the patient's reported history of spontaneous abdominal bruising. Left perinephric stranding was also seen."
"The fact that hemorrhage and inflammation was largely confined to the upper urinary tract suggests that transitional cells within the renal pelvis and ureters may be more prone to hemorrhage than those in the bladder with exposure to Vitamin K antagonists," the authors noted. They said that the severity of the CT findings of hemorrhagic ureteritis/pyelitis correlated to the relative degree of coagulopathy in both patients.
Dr. Rowe also said that "patients tend to be reluctant to disclose use of any drug, including synthetic marijuana, due to the stigma of being a drug user. So it can take a nuanced and thoughtful approach from the emergency room physician to elicit that information. Usually, the radiologist will not be directly speaking with the patient. The radiologic findings in the cases we experienced are actually very distinct. None of us had ever encountered another condition that would give the widespread evidence of hemorrhage throughout the renal collecting systems and ureters that these patients had."
"This is a situation where the radiologist can be very informative to the emergency room doctor," he added. "Radiologists can guide the discussion with the patient to the key information that can make the diagnosis."
REFERENCES
Gottlieb S, Marks P, Woodcock J. Statement from FDA warning about significant health risks of contaminated illegal synthetic cannabinoid products that are being encountered by the FDA. U.S. Department of Health and Human Services. U.S. Food and Drug Administration. Accessed at

https://www.fda.gov/newsevents/newsroom/pressannouncements/ucm614027.htm

Accessed on September 19, 2018.
Panigrahi B, Jones BC, Rowe SP. Brofidacoum-contaminated synthetic marijuana: clinical and radiologic manifestations of a public health outbreak causing life-threatening coagulopathy. Emerg Radiol. Published online July 18, 2018. doi.org/10.1007/s10140-018-1628-5.
Back To Top