SNMMI 2015: New PET imaging agent is detecting metastasized prostate cancer
By Staff News Brief
Conventional imaging is limited in its ability to detect prostate cancer metastasis accurately and measurably, but a novel molecular imaging agent used for a PET scan is showing has the ability to detect prostate cancer cells, according to a presentation made at the annual meeting of the Society of Nuclear Medicine and Molecular Imaging held in Baltimore June 8-10. The agent is 89Zr-Df-IAB2M, a novel engineered anti-prostate specific membrane antigen (PSMA) that targets the extracellular domain of PSMA.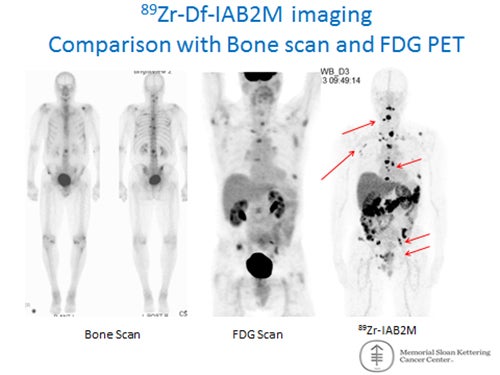 The radiotracer combines a small amount of zirconium-89 (89Zr) with a fragment of an antibody called a minibody. The minibody has anti-PSMA qualities and attaches to over expression of the enzyme glutamate carboxypeptidase II (GCPII) on the exterior of prostate cancer cells. 89Zr-Df-IAB2M is imaged faster than the full antibody that targets PSMA and has been shown to be safe for patients. Particles emitted from the site are then detected by PET, creating "hot spots" of PSMA overexpression.
Session presenter Neeta Pandit-Taskar, M.D., a nuclear medicine physician at Memorial Sloan Kettering Cancer Center in New York City, said, "To date, conventional imaging is limited in detecting prostate cancer metastasis. Using this agent, we can detect the prostate cancer cells that have metastasized to bone, one of the most difficult areas to evaluate using standard methods."
Dr. Pandit-Taskar and colleagues conducted a study of 28 patients, who underwent standard CT/MRI and bone scan imaging, and FDG PET, followed by imaging with the 89Zr-Df-IAB2M agent. A total of 393 sites (279 bone and 114 soft tissue) were identified using all imaging modalities. JAB2M PET/CT identified 81.7% of all suspected bone lesions. A total of 65 unique bone and 32 soft tissue sites were identified on IAB2M only.
Of the total 19 biopsies and histological analyses performed, FDG-PET identified 14 sites, IAB2M PET/CT identified 17 sites, and a MRI and molecular bone scan identified 18 sites. However, the overall accuracy was found to be 89.5% for IAB2M PET/CT versus 84% for MRI and a molecular bone scan, and 84% for FDG-PET.
"This is an early phase trial," said Dr. Pandit-Taskar. "Initial results of full body imaging with this Zr-89 minibody have shown that we are able to detect more disease sites in patients than with conventional imaging. With further validation, this radiotracer could also potentially be used to perform targeted biopsies for precise tissue analysis, which could lead to earlier, more appropriate treatment for prostate cancer patients." An estimated 27,540 prostate-cancer related deaths occur annual in the United States, according to 2015 American Cancer Society statistics.
REFERENCE
Pandit-Taskar N, O'Donoghue J, Martinez D et al. First in Human 89Zr-Df-IAB2M anti-prostate specific membrane antigen (PSMA) minibody in patients with metastatic prostate cancer. J Nucl Med. 2015; 56 (Suppl. 3): 400.
Back To Top
---
SNMMI 2015: New PET imaging agent is detecting metastasized prostate cancer. Appl Radiol.
By
Staff News Brief
|
June 18, 2015
About the Author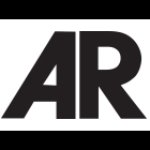 Staff News Brief